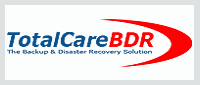 Fire - Theft - Flood - Server Crash! Is your data safe?
From tax records to client information, your data is the life-blood of your business. When it's lost because of an unanticipated natural disaster or even worse, it is stolen, you need to make sure you can recover that data to ensure business continuity.
Secure Future Tech Solutions offers a comprehensive disaster recovery plan to allow you to fully recover from a tragedy. This "Just-in-Case-Plan" offers real time backup and allows you to monitor data to give you peace of mind.
 Key Features of Total Care BDR:
24 x 7 x 365 Monitoring and managing insuring data integrity.
On-site "virtual" server - will cut down-time from days to minutes!
Redundant off-site data storage in 2 states
Comprehensive / real time backup and data restoration- it's time to eliminate costly tape drives!
Having doubts about your current network? Any downtime can be very costly! Call us today at 401-921-2607 to help you create a comprehensive disaster recovery plan. This is the most important service you could ever sign up for.