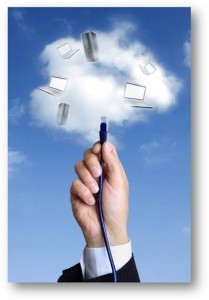 Simply stated the "cloud" is a metaphor for the Internet.
"Cloud computing" is accessing your programs and applications in the cloud! Secure Future Tech Solutions is an expert in cloud computing throughout the Warwick-Rhode Island area.
Why plug-in to the cloud? There are many benefits of the cloud such as:
Scalability - you buy the "space" you need. As you grow, you can increase your storage space.
Remote Access - accessible from anywhere around the globe!
Automatic Updates & Maintenance - easily stay up-to-date on new software.
Business Continuity / Disaster Recovery - information is hosted in a safe place, so it is easily recovered if a disaster occurs.
Cost - you pay for what you use!  You do not need to make an extensive hardware investment. Less IT maintenance needed!
Cloud options included are:
Office 365
Remote Support
Dropbox Migration
Cloud Access
More and more technologies are moving into the cloud. Are you ready to take that next step? Call us today to learn more!