One hundred bucks…and an uncanny knack for solving computer problems.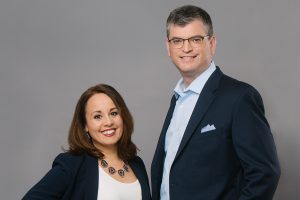 That's all Eric Shorr, Founder of Secure Future Tech Solutions (SFTS), had going for him when he started his first IT company, PC Troubleshooters, from his college dorm room at the University of Rhode Island back in 1992.
"I get great satisfaction figuring out how to help clients use IT to make their business more efficient, profitable and competitive," Eric said. "It's a puzzle that I love to solve, and one we're still great at today."
A pioneer in IT for small businesses, Eric helped a law firm build one of the first computer networks in exchange for office space. "Back then there weren't a lot of local area networks for businesses, and even fewer people who knew how to make them work," Eric said. "When I built a computer network and supported it for this law firm, it was very cutting edge and gave them a significant competitive advantage."
But it wasn't until 1998 when Eric's (now) wife and business partner, Lisa Shorr, came into the business when it really started taking off. Lisa brought the polish and professionalism Eric needed to evolve into the multi-million-dollar success it is today. Together, they are an unstoppable dynamic duo that are rapidly building one of New England's most innovative and awarded IT firms, retaining long-term clients, and experiencing 15% to 20% growth year over year.
What Separates Secure Future Tech's Approach From Other IT Firms
Running a fast-growing small business themselves, the Shorrs intimately understand the challenges all small businesses face of trying to maximize efficiencies, cost savings, staying competitive and keeping their employees productive. A good IT strategy is critical to this.
"Our clients see technology as a means for maximizing efficiency and productivity, just like we do," Lisa said. "With the right IT strategy, a small business can compete with a much larger business, and that's how we make all of our recommendations: where can we eliminate bottlenecks, inefficiencies, risk, cost and complexity."
This goes beyond just having smart engineers, although hiring top talent is one of their key strategies. They approach IT from the Owner's perspective, not through the eyes of a Tech, which means all of their recommendations are based on what will deliver the best result, not what's the "coolest" technology out there, or the most expensive.
"We're in a unique position where we're large enough to provide enterprise-level services and solutions, but still have our entire focus on serving the small, growing business," said Lisa. "Many of the larger IT firms out there don't want to give small businesses time and attention because they don't represent a multi-million-dollar deal. Conversely, many of the smaller IT shops don't have the resources to deliver the advanced cyber security, help desk, disaster recovery and business solutions that we can. That makes what we do very attractive for a business with 20 to 100 employees that needs more professional and sophisticated IT support, but is stuck trying to find the right match…and that's exactly where we shine."
Everything Is Tested And Proven Before It Goes To Their Clients
One of the ways SFTS helps small businesses grow faster is by using their own business as a prototype. Every piece of technology they recommend and deploy for clients is tested internally first to ensure a flawless implementation once deployed at the client's site. Their team puts dozens of solutions, tools, and products through their own litmus test to ensure they will actually do what they promise to do, solving problems, protecting clients and delivering simple and elegant solutions their clients love.
"When I recommend something, I've proven that it will work," Eric said. "We're NOT learning on our clients' dime, so they can trust our recommendations."
As an example, SFTS built a "Zoom Room" in their own office to test remote workforce solutions. "I had a client building a new office with conference rooms," Eric said. "I dug in, picked the best technologies, and thoroughly tested them so I knew it would work great and accomplish what the client wanted."  Eric also invites clients in to demo his solutions so they can see the quality for themselves.
Proactive Strategy And Seeing Around Corners Keeps Their Clients Secure
IT is a constantly evolving space; what works today to keep hackers and ransomware at bay might not work tomorrow – and faster, better, cheaper solutions are continuously coming to market.
"We are always looking ahead for new threats that may impact our clients as well as 'Plan B' solutions in the event a disaster strikes," said Eric. "It's my job to worry about these things FOR my clients so they can focus all their attention on what they do best, running their business. MY job is to be that lookout, scout and advisor for them."
When COVID-19 hit, most of their clients were already set up to work remotely. "We've always been preparing our clients to make the shift to work from home," Eric said.  "We quickly got our clients working remotely because as their Managed Services Provider (MSP), we'd already put in place remote access in every single device we manage for maintenance. This tool made things significantly better. Coupled with our team working extra hours, we got everybody working fast. It was a phenomenally successful transition."
Their Secret Sauce To Getting And Keeping So Many Raving Fan Clients
While Eric focused on the technology side, Lisa, a Certified Image Consultant and Branding Expert, focused on the people and customer experience side.
Lisa created internal training programs on everything from phone and communication skills to customer service skills to the importance of uniforms to building relationships.
"We constantly talk about how to speak to clients in high-stress situations such as when a client is frustrated because their technology went down," Lisa explained. "We talk about what tone of voice is appropriate to calm our clients down and how to build relationships." Beyond work skills, the Shorrs invest heavily in their employees, providing training on life skills. "I'm not just looking to grow the business, I'm looking to grow our employees in a meaningful way as human beings," Lisa said. "We help them with goal setting and do a lot of financial literacy. We also do professional development along with tech training."
Building a stellar reputation, clients repeatedly praise SFTS for their team's quick response, listening, communication, and customer service skills.  A testament to the success of her training, many employees have been with them for nearly twenty years, plus, SFTS was recognized as Providence Business News Best Places To Work.
To share her knowledge with the MSP community, Lisa opened Shorr Success, an Image Consulting business, in which she trains and coaches other MSPs employees on communication, empathy, and her proven B.R.A.N.D. (Behavior, Respect, Appearance, Network, Dynamic Dialogue) Method. "What I realized is that Eric and I's reputation and our constant focus on how we look, our speaking skills and abilities, our emphasis on no geek-speak, and our physical networking ability had beautifully impacted our employees," Lisa said.
Recognized Experts In The Tech Industry
Both Eric and Lisa not only grow their clients' businesses, they foster growth in the IT Industry as well. Frequently featured as a branding expert to her peers, Lisa has authored articles and appeared on podcasts, including as a Channel Pro Spotlight on the international Channel Pro Network. She also coaches other IT services CEOs in the U.S. and abroad.
Frequently recognized for his contributions, Eric is a Providence Business News 40 Under 40 and a Tech 10 Award winner which recognizes individuals and companies driving innovation, education, and growth across technology.
Members of the Tech Collective, which develops diverse populations to enrich the technology community, Lisa serves on the Executive Board.
The Shorrs also teach and develop courses. With half of all cyber-attacks targeting small businesses and security a growing concern, the Shorrs created a course called, "Think Like A Hacker."
Understanding that humans are the weakest link in the cybersecurity chain, they designed this course to combat human error. "Despite using the latest technology and security devices, people were clicking on links or giving up passwords," Eric explained. "Our training teaches clients how hackers operate, what they're looking for, how they trick you, and ways to keep you safe. It's been extremely effective."
One thing that hasn't changed, is SFTS's mission which is to "provide expert technology guidance to the SMB market, through a professional partnership that provides clients a solid foundation to secure and grow their businesses."  "We have laser-focused on small businesses for 28 years and have actively grown the business every single day," Lisa said. "We plan on continuing to be proactive today, so our clients can have a brighter tomorrow."
To see this Success Story and others, visit MSP Success Magazine.