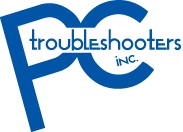 For Immediate Release
Contact:  Lisa A. Shorr
401-921-2607 |  lshorr@pctrouble.com
Like us on Facebook – Twitter @Lisa_Shorr & @PCTInc
PC Troubleshooters, Inc. takes another step into the Cloud Introducing "PCT Cloud" secure cloud file sharing
Warwick, RI - February 10, 2013 – PC Troubleshooters, Inc. (PCT), celebrating its 20th Anniversary as a leading provider of information and technology services to the small-to-medium size business market, is excited to announce the launch of their latest cloud solution: PCT Cloud.
PCT Cloud's file sharing service sends all data into the cloud encrypted. The only way to read that data is with a unique encryption code or "key". Unlike free programs, PCT  Cloud has tight admin controls that monitors and manages user-access and data security.
The Cloud is a metaphor for the Internet. Cloud computing means sharing, editing and accessing files through the Internet.
The new modern office is mobile – often situated at a local coffee shop or home office. Thanks to this trend, employees demand for cloud computing and file sharing has grown. The introduction of PCT Cloud takes its place among the other strong cloud solutions offered by PCT including its data backup and disaster recovery program called Total Care BDR (BDR - Backup & Disaster Recovery) and remote network monitoring and maintenance program called Total Care Plus.
"Thanks to cloud file sharing, organizations have seen a boost in collaboration and productivity," said Eric M. Shorr, President of PC Troubleshooters. "PCT Cloud eliminates the need for a physical server and mitigates the security risks associated with free file sharing programs such as Dropbox and Google Drive. PCT Cloud is backed up by local PC Troubleshooters engineers so you have someone to call for help whenever necessary."
About PC Troubleshooters, Inc.
Founded in 1992, PC Troubleshooters, Inc. (PCT) is an industry leading provider of IT support and consulting services to small-to-medium sized businesses. Our experience and expertise focus on a full suite of proactive solutions that enable productivity and prevent downtime. They include: Cloud services, disaster recovery solutions, and maintenance of computers, networks, and applications. PCT is ranked as one The Fastest Growing Technology Companies for 2012-2013 on the Providence Business News Book of Lists.
For more information visit:  http://www.pctrouble.com, https://www.facebook.com/pctroubleshooters, or https://www.twitter.com/PCTInc.