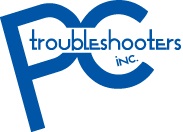 FOR IMMEDIATE RELEASE
CONTACT:  Lisa Shorr, VP of Marketing
Email: lshorr@pctrouble.com
"Stepping into the Cloud" at RIBX 2012
Warwick, RI – Eric M. Shorr, Founder and President of PC Troubleshooters, Inc. will present "Stepping into the Cloud," a seminar designed to educate business owners about what cloud computing is and how business owners can incorporate this new technology into their business model, at RIBX 2012, to be held at the Rhode Island Convention Center on Thursday, May 3, 2012.  The presentation will begin at 10:30 a.m. in the Technology Track area on the showroom floor.  Admission to the RIBX 2012 is FREE with a business card.
Adoption of cloud applications is growing as the demand for mobility and stronger disaster recovery solutions rise.  A recent study by IDG Enterprise, of 1, 650 IT and business professionals showed on average more than 34% of their current IT budget is allocated for cloud solutions.
Seminar topics include:   What is the difference between the cloud and cloud computing?  How do I know the cloud is secure?  What are the benefits of the cloud?  All of these questions and more will be covered as PC Troubleshooters demystifies the cloud and reveals how a growing number of businesses are implementing cloud solutions for growth.
"There is a lot of "hype" revolving around the cloud."  said Eric M. Shorr, President of PC Troubleshooters, Inc.  "My discussion focuses on the growing demand for cloud applications and how small and medium size businesses can take advantage of the latest technologies to poise their businesses for success."
In addition to the presentation, individuals may discuss the cloud solution or any other IT related issues by visiting with the professional staff of PC Troubleshooters at Booth -  #710.
About PC Troubleshooters, Inc.
Founded in 1992, PC Troubleshooters (PCT) is an industry leader providing small-to-midsize businesses a full suite of IT support and consulting services, managed services, disaster recovery solutions and maintenance of computers, networks, servers, workstations and appliances. PCT's expertise has grown to providing services in the cloud; from remote server and desktop support to monitoring and managing client's networks virtually. The business model takes a proactive approach, as they focus on building solutions that prevent downtime for their clients. PC Troubleshooters IT solutions have been featured in internationally known PC World Magazine. They have also been featured on WJAR Channel 10 as a Business Success Story and selected by Warwick and through·out Rhode Island Business News as the 2010 recipient of the Business Excellence Award for Community Involvement.
For more information visit: http://www.pctrouble.com or call 401-921-2607.
About RIBX
Designed to engage new audiences and energize the business community as THE place for "Business, Knowledge and Networking," RIBX is focused on giving attendees and exhibitors access to key decision makers, introducing them to some of the area's most successful entrepreneurs and allowing them to grow their business, engage their employees, advance their careers and connect with other New England companies.  RIBX is brought to you by The Greater Warwick and through·out Rhode Island Chamber of Commerce.
For more information visit:  http://ribx.wordpress.com/ or call 401-521-5000.