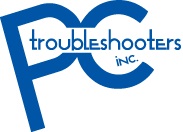 FOR IMMEDIATE RELEASE
Contact: Lisa Shorr, Vice President of Marketing PC Troubleshooters, Inc.
Phone: 401-921-2607
Email: lshorr@pctrouble.com
PC Troubleshooters, Inc. Launches Managed Security Services Through Partnership with MX Logic
Managed Email and Web Security Services Provide Customers with First Line of Defense to Prevent Threats from Entering Managed Networks
Warwick, RI - July 22, 2009 - PC Troubleshooters, Inc., a leading provider of IT network and security solutions, today announced that it has finalized a partnership with MX Logic - a leading managed security services provider.  This partnership will allow PC Troubleshooters to provide managed email, web security and message archiving services to its customer base.
PC Troubleshooters is adding MX Logic Email Defense Service and MX Logic Web Defense Service.  These new hosted offerings provide customers with an effective first line of defense at the network perimeter to prevent vulnerabilities and threats such as spam, worms and spyware from entering a managed network. In addition, PC Troubleshooters will be offering:
*  MX Logic Message Archiving to allow businesses to store, monitor and retrieve all inbound, outbound and internal emails for compliance or general storage/retrieval purposes.
*  MX Logic Message Continuity to allow customers to continue using email during planned or unplanned outages through a Web-based email client.  The service provides 60 rolling days of storage to protect against prolonged outages.
*  MX Logic Fail Safe Service that provides five days of rolling email storage to protect against the loss of emails during planned or unplanned outages.
"MX Logic's managed security services will fit well with our current offerings and our business philosophy - provide solutions that enhance customer productivity and profitability," said Eric M. Shorr, President of PC Troubleshooters, Inc.  "MX Logic is an ideal bsuiness partner for us.  Their simple, smart managed security services are highly effective and affordable - a perfect fit for our customer base which ranges from small-to-mid-size businesses and enterprises."
The implementation of MX Logic products will assure a better IT experience for PC Troubleshooters' customers.  By thwarting spammers and spoofers, utilizing web defense to restrict surfing and generating internet usage reports, MX Logic products keep bandwidth available for data applications.
###
About PC Troubleshooters, Inc.:
For 17 years, PC Troubleshooters, Inc. has been an industry leader providing small-to-medium size businesses IT and disaster recovery solutions, support and maintenance  of computers, networks, servers, workstations and applications.  PC Troubleshooters has been prestigiously ranked for over 5 years among Warwick and through·out Rhode Island Business News' Fastest-Growing Private Companies and Fastest-Growing Technology Companies.  Eric M. Shorr was also recognized as an honoree for Warwick and through·out Rhode Island Business News' 40 Under Forty.
PC Troubleshooters has recently enhanced its already comprehensive line of high quality security products by introducing an award-winning Digital IP Surveillance Program.  This surveillance system enables our clients to monitor and record LIVE digital images from anywhere around the globe.
For more information on PC Troubleshooters, Inc. please visit:  http://www.pctrouble.com
About MX Logic:
MX Logic is a leading provider of managed email and Web security services that deliver enterprise-grade performance without enterprise-level complexity and cost.  Our easy-to-use, award-winning services reduce risk and liability, lower overall IT costs and increase producitivity.  MX Logic services are available through our industry-leading partner network.  For more information, visit:  http://www.mxlogic.com.