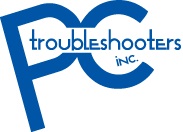 FOR IMMEDIATE RELEASE
Contact:Lisa Shorr, Director of Marketing
Phone:  401-921-2607
Email:  lshorr@pctrouble.com
Warwick Based IT Firm Launches an Innovative Solution to Combat Mother Nature
Resulting in Much Needed Organizational Savings!
Warwick, RI, January 7, 2009 – Warwick based I.T. firm PC Troubleshooters, Inc. has launched an innovative Business Continuity Plan called Total Care BDR (BDR = Business, Disaster, Recovery). Now small to medium sized businesses can receive the same I.T. security and support as large organizations.
Any network down time can cost an SMB hundreds to even thousands of dollars.  More than 50% of small businesses lack a solid data back-up program, if they have one at all, should they experience data loss due to a server crash.  Total Care BDR is a progressive, proactive and reliable business continuity solution that incorporates:   frequent (can be as frequent as every 15 minutes!) data back-up snapshots sent to secure off-site co- locations, proactive vs. reactive 24 x 7 monitoring by PC Troubleshooters, Inc., and most importantly a "virtual" server that can be loaded with your backed-up data should an existing server fail.  Historically, server restoration has taken anywhere from 1 or 2 days or up to several weeks, now with Total Care BDR a "virtual" server can be installed and go "LIVE" within minutes!
"Our goal at PC Troubleshooters, Inc. is to provide piece-of-mind to our clients knowing that their networks are running smoothly with minimal down-time should disaster strike." Said Eric M. Shorr, President of PC Troubleshooters, Inc.  "With Total Care BDR, we are far-surpassing that goal.  Our clients are now more aware of network dangers and have programs in place to shield them – which decreases I.T. problems and puts more money in their pockets."
###
About PC Troubleshooters, Inc.
For 17 years, PC Troubleshooters, Inc. has been an industry leader providing small-to-medium sized businesses I.T. solutions, support and maintenance of computers, networks, servers, workstations and applications.