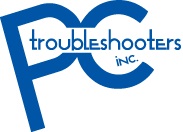 FOR IMMEDIATE RELEASE
Contact:  Lisa Shorr, Director of Marketing
Phone:  401-921-2607
Email:  lshorr@pctrouble.com
PC TROUBLESHOOTERS, INC. RANKS IN PROVIDENCE BUSINESS NEWS' 2009 BOOK OF LISTS
FOR THE FIFTH YEAR IN A ROW!
Cool Consistency in an Inconsistent Economy
Warwick, RI, January 7, 2009 –PC Troubleshooters, Inc., a leading provider of I.T. network and security solutions, is proud to announce it was prestigiously ranked among Rhode Island's best for the fifth year in a row within Warwick and through·out Rhode Island Business News' 2009 Book of Lists.
Innovation and ingenuity have proven to be key factors in PC Troubleshooters, Inc. success.  As the demand for I.T. services continues to explode, PC Troubleshooters, Inc. has consistently risen to the challenge by providing revolutionary products and services coupled with superior customer service.
PC  Troubleshooters, Inc. can be seen on four different rankings with the 2009 Book of Lists.  They are:  Fastest Growing Private Companies (#28), Fastest Growing Technology Companies (#8), Computer Networking Companies (#16) and Computer Repair Companies (#4). 
"We are pleased to be ranked once again among the prestigious Fastest Growing Private Companies list."  Said Eric M. Shorr, President of PC Troubleshooters, Inc.  "Our consistent ranking within an inconsistent economy is a direct result of our tireless efforts to service our clients to the best of our ability." 
PC Troubleshooters, Inc. sales grew 30% in 2008. They also expanded their workforce by 33%
###
About PC Troubleshooters, Inc.
For 17 years, PC Troubleshooters, Inc. has been an industry leader providing small-to-medium sized businesses I.T. solutions, support and maintenance of computers, networks, servers, workstations and applications. 
PC Troubleshooters, Inc. has recently enhanced its already comprehensive line of high quality security products by introducing a Digital IP Surveillance Program.
For more information on PC Troubleshooters,Inc. please visit: www.pctrouble.com