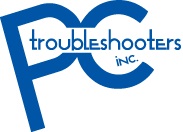 FOR IMMEDIATE RELEASE
Contact:  Lisa Shorr, Director of Marketing
Phone:  401-921-2607
Email:  lshorr@pctrouble.com
PC TROUBLESHOOTERS, INC. TO CONDUCT FREE BUSINESS CONTINUITY SEMINAR AT THE PROVIDENCE BUSINESS EXPO 2009 CALLED:  "IT WON'T HAPPEN TO ME – WILL IT?  4 STEPS TO A CREATING A COMPLETE BUSINESS CONTINUITY PLAN"
Warwick, RI, January 7, 2009 –PC Troubleshooters, Inc., a leading provider of I.T. network and security solutions, announced today it will be hosting a FREE Business Continuity Seminar at Warwick and through·out Rhode Island Business Expo 2009 at the RI Convention Center on May 6, 2009 from Noon to 12:30 at the Expo Platform #133. The seminar is called:  "It Won't Happen to Me - Will It? 4 Steps to Creating a Complete Business Continuity Plan."
Statistics show:  More than 50% of Small Businesses lack a viable disaster recovery strategy.  78% of businesses that experience a power outage or experience more than 2 days of down time will be out of business within 2 years!    Natural disasters such as fires or theft cannot be predicted – by not planning for the unexpected, a business is taking a huge risk of excessive cost and ultimate demise.
It is essential that every business create and implement a plan for disaster recovery.   This MUST ATTEND session will discuss the 4-key components a business must address when creating a plan for disaster recovery.  The 4 key areas are:  Power, Technology, Space and Connectivity.  IT Industry leader and President of PC Troubleshooters, Inc., Eric M. Shorr, will share how each of these components are interrelated and when implemented together create a solid solution to ensure business continuity, should a catastrophic event occur.
"Too many clients have called me AFTER their office has flooded, caught on fire or been the victim of theft."   Said Eric M. Shorr, President of PC Troubleshooters, Inc.  "My mission for 2009 is to make Business Continuity/Disaster Recovery planning a top priority for business owners.  Business Expo is a great vehicle to reach the top decision makers in an organization and talk disaster recovery."
###
About PC Troubleshooters, Inc.
For 17 years, PC Troubleshooters, Inc. has been an industry leader providing small-to-medium sized businesses I.T. and Business Continuity solutions, support and maintenance of computers, networks, servers, workstations and applications.
PC Troubleshooters, Inc. has recently enhanced its already comprehensive line of high quality security products by introducing a Digital IP Surveillance Program.
For more information on PC Troubleshooters, Inc. please visit:  www.pctrouble.com