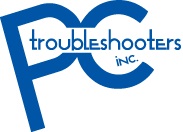 PRESS RELEASE
Contact: Lisa Shorr, Director of Marketing
Phone: 401‐921‐2607
Email: lshorr@pctrouble.com
PC Troubleshooters, Inc. Boosts Security with a New Hire:
Jim Given Hired As Video Surveillance Specialist
Warwick, RI, July 29, 2008 – PC Troubleshooters, Inc. is pleased to announce that Jim Given has joined the PC Troubleshooters, Inc. team as a Surveillance Specialist. Jim brings nearly 10 years of video surveillance expertise to PC Troubleshooters, Inc. His security experience extends beyond video surveillance serving on the Narragansett Fire Department for over 18 years.
IP Surveillance, also known as Network Video, is a system that enables the user to monitor and record "live" video over an IP Network (LAN/WAN/Internet). Digital quality images can be viewed from anywhere at any time around the world with an internet connection. "Precise camera placement and installation is key when securing a building. Jim's brings a wealth of hands‐on installation and security consultation know‐how to PC Troubleshooters, Inc."said Eric M. Shorr, President of PC Troubleshooters, Inc.
While serving 6 years in the Marine Corps., Jim studied electronics and technology for radar systems. His zeal for continuing a career in security continued when he joined the Narragansett Fire Department over 18 years ago and now holds the rank of Lieutenant. Almost a decade ago, Jim started his own security consulting and installation business. He sold surveillance cameras and burglar alarm systems to residential and commercial clients .
Jim also holds a Rhode Island Telecommunications Contractor's License for audio and video.
###
About PC Troubleshooters, Inc.
For 16 years, PC Troubleshooters, Inc. has been an industry leader providing small‐to‐medium sized businesses IT support services and maintenance of computer networks, servers, workstations and applications. PC Troubleshooters, Inc. has recently enhanced its already comprehensive line of high quality security products by introducing a Digital Surveillance Program.
For more information on PC Troubleshooters, Inc. please visit: www.pctrouble.com.