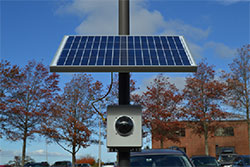 Do you need a surveillance solution that MOVES with you?
Call Patrick Hay today at 401-921-2607 to learn more and to schedule a LIVE Demo!
Introducing: SFT Mobile Surveillance System
For Construction Sites
A quick-deploy video surveillance system that aids in theft prevention, asset protection, site monitoring, and reducing liability suits.
SFT Mobile Surveillance Offers:

Quick Deployment – Perfect for an urgent need. System is housed in a compact carry case with the ability to be deployed in multiple environments and conditions. Simply secure to an existing structure. Easily relocate for maximum flexibility and value.
Power & Network Independent – System operates independently from a fully charged battery for 8—10 hours and utilizes available broadband connectivity. Operate indefinitely on AC power or extended periods with solar power options. (see image!)
IP PTZ Camera – 180 degree field of view. Move lens and zoom camera onto areas of interest. Includes built-in vandal resistant 720p video resolution with pan/tilt/zoom (PTZ) capability.
Local Recording – Video is stored securely on an internal SD card and provides up to a week of recording.
Remote Viewing – Video can be viewed via any Internet connected device through a standard web browser or integrated into various hosted or local video management systems.
Flexible Mounting Options:

Invest in one solution without the need for a costly infrastructure!
Monitor Construction Sites

Shift mobile cameras system from one phase of a project to another.

Monitor employees for compliance and safety
Perfect solution when you do not need a permanent camera in place!