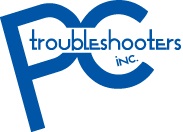 For Immediate Release   
PC Troubleshooters, Inc. and Creative Computing join forces to present:
May 12, 2011 – Warwick, RI –  "Welcome to the decade of Smart."  This catch phrase, coined by IBM to introduce their "Smarter Planet" initiative, recognizes the infusion of data intelligence into systems and processes that are traditional (computers and mobile devices) and non-traditional (including cars, appliances and roadways) that make our world work.   Businesses must find value in their data to foster growth.
Capitalizing on this campaign, PC Troubleshoooters, Inc. of Warwick, RI and Creative Computing of Lincoln, RI, both IBM Business Partners for more than 15 years each, are partnering to present:  Building the Foundation of a Smarter Business.  This educational seminar will:
 Articulate the opportunities that a dynamic economy presents to midsize companies that are agile and adaptable enough to take advantage
 Explain why the business model in place at most midsize companies actually restrains growth
 Demonstrate how IBM Cognos Express is uniquely built to empower faster, smarter decisions and fuel growth without overwhelming IT
 Discuss how IBM provides the technology and expertise through their System X and Blade Center solutions to build a smart network infrastructure to facilitate
Business Intelligence analysis
 Share the insights from keynote speaker Holly DaSilva from Analog Devices (NYSE: ADI), a world leader in the manufacture of high perfomance signal
processing solutions... (analog, mixed-signal, and digital signal processing, integrated circuits) all of which play a fundamental role in converting, conditioning,
and processing real-world phenomena such as light, sound, temperature, motion, and pressure into electrical signals to be used in a wide array of electronic
equipment. Holly will provide a high level overview of how Cognos tools have impacted their business.
The main event will be held at the Marriott Downtown Warwick and through·out Rhode Island .  Following the 1 hour seminar, attendees will enjoy a complimentary cocktail and hors' oeuvres at the hip Aqua Lounge.  One lucky attendee will win an Amazon Kindle (Recipient must be present to win the drawing!).
"IBM provides the technology and expertise to build a smart network infrastructure that delivers best-in-class performance with a competitive advantage."  Said Eric M. Shorr, President of PC Troubleshooters.   "IBM's System X and Blade Center Servers are optimized to boost the benefits of real-time analytics. The team at Creative Computing are experts in business intelligence solutions. Partnering with them complements our expertise in deploying network infrastructure solutions that are the foundation of running any business analytics software."
"Today, manufacturers of every type generate data constantly.  The dominant players in their field will be those who leverage this data most effectively.  By utilizing the data that they have collected within their systems, they can immediately determine what's happening, why it happened, and what is going to happen next.  This leads to reduced costs, increased profit, the ability to identify their most valuable customers, products, markets, etc.  Creative Computing and IBM can help you squeeze every drop of value from the data assets and applications you already own and have used for years,"  said Ken Gustin, VP Business Development at Creative Computing, Inc.  "We can show you a whole new way to do reporting, analysis, forecasting, budgeting and planning, the 'Smarter Way'."
# # #
About PC Troubleshooters
Founded in 1992, PC Troubleshooters (PCT) is an industry leader providing small-to-midsize businesses a full suite of IT support and consulting services, managed services, disaster recovery solutions and maintenance of computers, networks, servers, workstations and appliances.  PCT's expertise has grown to providing services in the cloud; from remote server and desktop support to monitoring and managing client's networks virtually. The business model has shifted from being reactive to proactive, as they focus on building solutions that prevent downtime for their clients.  PC Troubleshooters IBM Blade Center solutions have been featured in internationally known PC World Magazine.  They have also been featured on WJAR Channel 10 as a Business Success Story and selected by Warwick and through·out Rhode Island Business News as the 2011 recipient of the Business Excellence Award for Community Involvement.
For more information visit:  http://www.pctrouble.com
About Creative Computing
Creative Computing, Inc. (CCI) is a leading provider of Business Analytics Software and Solutions from IBM Cognos, based in Armonk, NY; and from SAS Institute, Inc., of Cary, N.C. As an IBM Cognos® Premier Partner, CCI has been designing, building and deploying business intelligence solutions based on Cognos software products for 20 years. By following a Best Practices approach, their expertly trained staff of IT consultants has built and deployed major applications for many Fortune 500 companies throughout North America, allowing them to build environments designed to enable key business users to access relevant business information; allowing them to become agile competitors. Creative Computing is headquartered in Lincoln, RI.
For more information visit:  http://www.mycci.com
Contacts:
Lisa Shorr
PC Troubleshooters, Inc.
Tel: 401-921-2607
Email:  lshorr@pctrouble.com
Web: http://www.pctrouble.com
Debra Souliere
Creative Computing
Tel: 401-727-2400
Email: debra.souliere@mycci.com
Web: http://www.mycci.com